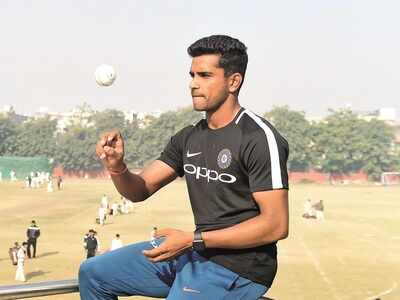 Shivam Mavi: Last year was difficult, I was under pressure
by Mumbai Mirror

Shivam Mavi shot to fame during the 2018 U19 World Cup with his raw pace and was bought by Kolkata Knight Riders for Rs 3 crore in the auction that year. He seemed to be making the tricky transition to senior cricket well enough, as he went on to play Ranji Trophy for Uttar Pradesh and also represented India 'A'. However, recurrent back injuries stalled his progress. He may have missed a large part of IPL 2020 too for his rehab, had it not been for the tournament's postponement. In an interview, the 21-year-old speaks about his comeback and bowling to the likes of Andre Russell in nets.

You have come back to KKR after a long lay-off due to injury. How has your last year been?

It has been difficult. I was already having an injury in the same place prior to the new one, so I was facing an irritation. But I wanted to forget all these and get back to cricket and perform for KKR again. I was happy when KKR bought me. Last one year was difficult and I was under pressure.

Tell us about the combination with skipper Dinesh Karthik when he is keeping wicket and you are bowling in the death overs, like you did for KKR in 2018?

It had been a pretty good combination. It gets easier to set the fielding positions and for the captain also, it is easier because he is keeping wicket and he can clearly see the batsman. At times, he comes up to me to devise plans and accordingly set the positions of the fielders.

You will bowl to batsmen such as Andre Russell, Eoin Morgan, Karthik and Tom Banton at nets. Do you think bowling to these four different types of batsmen will help you get prepared for matches?

Yes, so in my first year, I used to bowl to Shubman Gill and Chris Lynn with new balls. In the death overs, I wanted to bowl to Russell so that I can be prepared for the match and it can be easier for me to bowl in the death overs.

How much will you miss the energy of the Eden Gardens crowd this time?

I will miss it a lot. I have hardly seen that sort of cheering anywhere else. 60,000 supporters come to cheer for the players. I have not seen that much anywhere.

Do you think absence of crowd will help you focus more on your bowling at the death?

Initially, I faced this and felt the crowd getting more excited as I got to bowl in the death overs and that indeed puts you under pressure. But this pressure went on diminishing later. Pressure is always there on the bowlers and batsmen, irrespective of their status. It depends on your handling of that pressure. But this time that pressure will not be that much.

You were injured and not available for the full season but KKR still retained you. How motivating was that for you?

Normally, franchises do not keep faith in someone like this. But KKR trusted us, so it was really motivating for us. Teams generally do not retain players after injuries. But KKR did retain us and it felt really good.