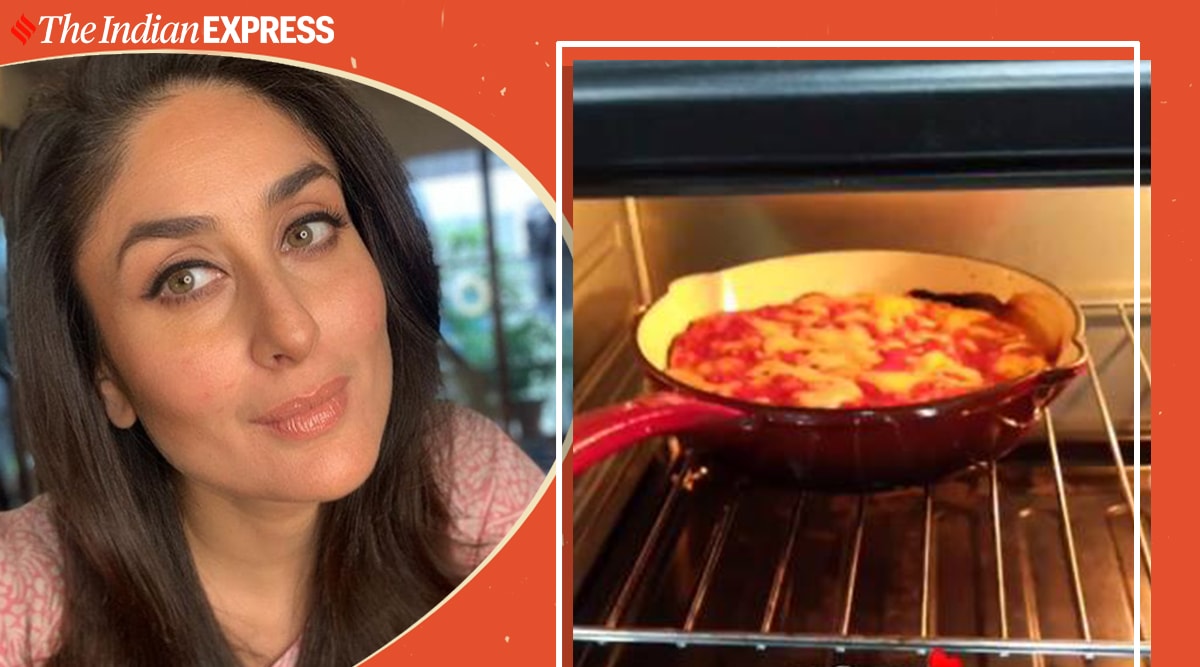 Like Kareena, you can also make deep-dish pizza in a pan with this recipe
Kareena Kapoor posted two Instagram stories of her baking a deep dish pizza that looked delicious
by Lifestyle Desk

Kareena Kapoor is not usually seen posting cooking videos or pictures on social media. Recently, however, the Angrezi Medium actor gave us a sneak peek into her culinary skills.

The mother-to-be posted two Instagram stories of her baking a deep-dish pizza that looked delicious, to say the least. "Deep-dish pizza has hit my heat deep," she captioned one of the pictures.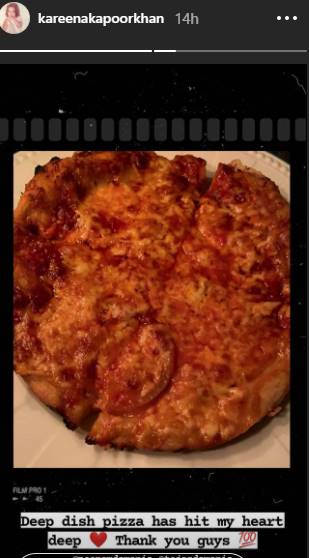 Deep-dish pizza originates in Chicago and is baked in a pan, which gives the dish a high edge and provides ample space of a large amount of cheese and other toppings, adding to its richness in taste. Besides, baking pizza in a pan is a good option if you do not have a baking tray at hand.
https://images.indianexpress.com/2020/08/1x1.png
Try this deep-dish pizza recipe, courtesy Sanjeev Kapoor Khazana:
Read| Craving pizza? Here's how you can make it in a mug
Ingredients
250 g – Pizza dough
Refined flour for dusting
1 tbsp – Olive oil + for greasing
1 tsp – Chopped garlic
200 g – Boneless chicken, cut into small cubes
½ tsp – Red chilli flakes
2 tsp – Fresh oregano leaves
Salt to taste
50 g – Processed cheese
3-4 – Button mushrooms, sliced
1-2 – Pickled jalapeno, sliced
4-5 – Black olives, pitted
2-3 – Sundried tomatoes, soaked for 10-15 minutes in warm water
½ – Small onion, sliced
6 – Pepperoni roundels
Fresh basil leaves for topping
Pizza sauce
4 – Medium tomatoes, blanched and peeled
1 tbsp – Olive oil
1 tbsp – Chopped garlic
Salt to taste
1 tbsp – Tomato ketchup
Crushed black peppercorns to taste
3-4 – Fresh basil leaves
½ tsp – Red chilli flakes
Method
*Dust the worktop with some flour, place the dough and knock back to release excess air.
*Grease a baking pizza tin with some olive oil and dust with some flour.
*Dust the worktop with some more flour and roll out the dough into large thick disc.
*Place the disc into the greased pizza tin and discard excess dough. Cover with a damp muslin cloth and set aside to proof for five to 10 minutes.
*To prepare pizza sauce, heat olive oil in a non-stick pan.
*Roughly chop blanched tomatoes.
*Add garlic and chopped tomatoes to hot olive oil and sauté for 10-12 minutes or till tomatoes turn soft and pulpy.
*Add salt and tomato ketchup and mix. Add two to three tbsp of water, mash and cook for three to four minutes.
*Preheat oven to 180 degrees Celsius.
*Heat one tbsp olive oil in another non-stick pan. Add garlic and saute. Add chicken cubes, mix and cook on high heat till done.
*Add chilli flakes. Roughly chop some oregano leaves, add to pan and toss. Add salt and toss well.
*Add two to three tbsp of water to the sauce, mix and cook for two to three minutes.
*Chop basil leaves, add to sauce and mix. Add chili flakes and mix well. Switch off heat and cool.
*Poke holes on the proven disc using a fork and spread some sauce on top.
*Thinly slice mozzarella cheese and place over the sauce. Top with cooked chicken cubes, mushrooms, jalapeno slices.
*Slice black olives and put on top of the pizza. Chop sundried tomatoes, put on top of pizza along with some sliced onion.
*Roughly chop oregano leaves and sprinkle on top of the pizza and place the pepperoni roundels.
*Place the tin on a baking tray. Put the tray into the preheated oven and bake for 20-25 minutes.
*Cut into wedges, top with some torn basil leaves and serve hot.
When are you making yummy and cheesy deep-dish pizza?
For more lifestyle news, follow us: Twitter: lifestyle_ie | Facebook: IE Lifestyle | Instagram: ie_lifestyle