DCI Kinoti on Killer Police Squad Reports
by Michael Musyoka

DCI George Kinoti on Monday, September 14, appeared before a Senate committee to respond to claims that there were special police squads conducting conducting covert operations in the country.

Appearing before a joint meeting of the Senate Committees on Justice, Legal Affairs and Human Rights and National Security, Defence and Foreign Relations, DCI Kinoti stated that such reports were a work of fiction.

Kakamega Senator Cleophas Malala, who was present for the session, had claimed that he feared for his life as he was being trailed by five gunmen, with sophisticated weapons.

Watch the video of DCI Kinoti in Parliament below:
In response, Kinoti denied the reports of a police unit contracted to harm the senator.
"The Senator sent me a picture of five men who purportedly want to kill him. I do not recognise them as officers, but if they are existing, we are ready to do an ID parade," he told the senators.
The DCI boss further read out the names of the purported members stating that they were not members of the police service.
"Out of these names, I only recognise one being an officer, who is stationed in Wajir. But these others are not police officers, neither with the DCI nor the National Police Service.
"So I do not know what motive the informant had, maybe, it was to cause panic," he added.
Kinoti further stated that the special unit had been collapsed for accountability purposes within the police service.
"We adjusted the unit that deals with complex crimes from 1,000 officers to barely 100 so that we could account for each officer," he stated.
In December 2019, the famous flying squad unit was disbanded and replaced with a unit dubbed Sting Squad Headquarters (SSH) which would consist of specially trained officers who would respond to specific cases such as armed robberies, kidnappings, motor vehicle theft, sale and distribution of contraband and substandard goods. 
Senator Malala during the Monday session, claimed his pleas for extra security had fallen on deaf ears.
"I am a young father and husband. It is very disheartening for people to sit in a corner and think they can take my life. I humbly request this committee and the Inspector General of Police to take note that I have said time and again my life is in danger. I have written enough letters and called offices in this Republic but they have not taken any action even to give me extra security.
"Nobody is willing to give me security Mr. Chair. It is sad for me to walk around the streets of Kakamega and Kenya knowing that I'm going to die the next day," he stated.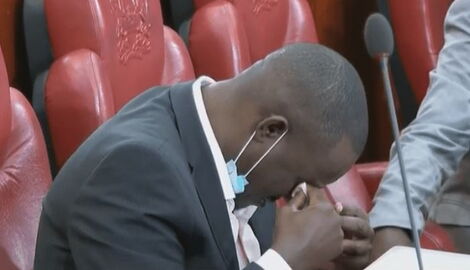 Kakamega Senator Cleophas Malala wipes off tears in the Senate on September 14, 2020.
YouTube