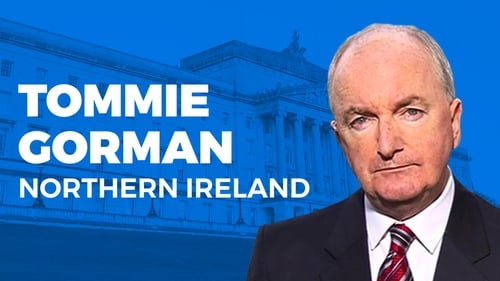 Brexit turbulence: Here they go again
by Tommie Gorman, https://www.facebook.com/rtenews/

The bad news for the European Commission, Ireland and those in the DUP who want a gentle Brexit is that a rejuvenated Dominic Cummings is once more calling the shots in Downing Street. His eyesight is fixed. But his eyes are not the trouble. The problem is his vision. 

The bad news for Ireland, north and south and those in London who want a clean Brexit deal is that the new EU Commissioner for Trade is from Latvia, next door to Russia and Belarus. The Trade Commissioner who understood the British mindset and whose mother tongue is Kilkenny English has gone.

Valdis Dombrovskis was prime minister of Latvia in November 2013 when a shopping centre roof collapsed, killing 54 people. He resigned as his government took political responsibility for the tragedy.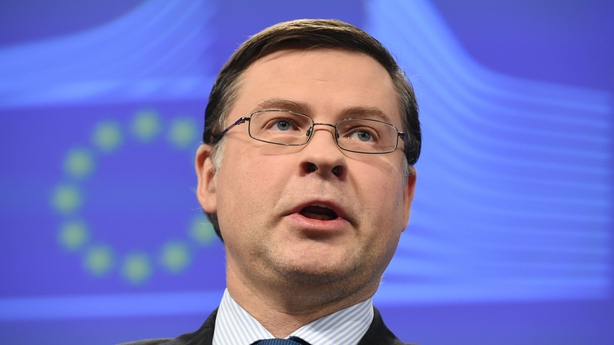 But his time on the sidelines was short. Three months later his country nominated him to become Latvia's member of the European Commission and he has been in Brussels since. He once was a keen basketball player and enjoys going skiing in his free time. His Wikipedia page has no mention of golf.
He replaces Phil Hogan who, with the encouragement of the Irish Government, was bundled out the door. Public anger over his non-adherence to Covid 19-related guidelines and his reluctance to give a timely fulsome apology for his errors were significant factors in his downfall. His successor as Ireland's member of the Commission is fellow Fine Gael member, Mairead McGuinness. 
She has been given the Financial Stability, Financial Services and the Capital Markets Portfolio. The job became vacant when her Latvian colleague was promoted to the Trade role. She has a deserved reputation for hard work and professionalism. She will be spending every available minute getting up to speed with her new responsibilities.
Phil Hogan was a highly respected bruiser. On the international stage and significantly in London and Washington, like the late Peter Sutherland and Ray McSharry, Hogan had the reputation of a tangler cum poker player with an instinct for deal-making. 
Senior DUP figures were among those who sensed Hogan could have useful views about an acceptable landing zone in the Brexit haggling.
Mairead McGuinness deserves acknowledgement and thanks for the role she has played in presenting the Irish issues on the international stage in the Brexit debate up to now. She is a first-class communicator.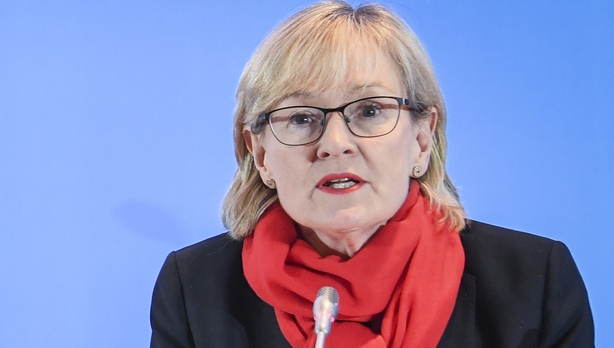 In her role as Vice President of the European Commission she was an illuminating presence in Brussels and Strasbourg. Some of her most forceful media performances were on Channel 4 and BBC programmes. Neale Richmond, then a senator, now a TD, was another formidable media presence during those pre-Withdrawal Deal debates last year.
With Mairead McGuinness no longer available, influential BBC programmes with huge audiences got hold of Thomas Byrne TD, Minister for European Affairs twice in the past week. 
Soft centre
Earlier this year Ireland's capacity to punch above its weight on the international stage was being lauded. We landed a seat on the Security Council: Paschal Donohoe was chosen to chair the Eurogroup of EU Finance Ministers. To the relief of the French president and others, Phil Hogan pulled back from seeking the stewardship of the World Trade Organisation and, opted to stay as EU Trade Commissioner.
Then came Golfgate during what should have been August holiday season for an out of breath new coalition government, worried that the pandemic was tooling up for Round 2. 
Soft power became soft centre. Or soft touch? 
On the domestic front, the biggest political winner from the Clifden debacle was Louth County Councillor Colm Markey. His Lotto number came up when he was called from the subs bench and given the nod to replace Mairead McGuinness as a Fine Gael member in the European Parliament. 
The most important political adviser in the UK, Dominic Cummings, may have noted Phil Hogan's EU exit. But we would be fooling ourselves if we believed Dom follows all the twists and turns in domestic Irish politics.
Dom has much more important business at hand and he is pursuing his goals with single-minded determination.
Dom, smoke and mirrors
He is a fascinating, talented character. Unlike many within the Westminster bubble, he has no interest in public appearances or becoming a celeb. Some of the details that emerged during his 'May misfortunates' provided an outline of a very private man.
His wife, Mary Wakefield, is Commissioning Editor at The Spectator. They have a much-loved young son. The pair are the key people in Dom's private world.
He worked as an adviser to Michael Gove from 2007 to 2014. He was wooed back into the smoke and mirrors business in 2016 when he was appointed boss of what was then an organisation with limited self-belief, The Vote Leave Campaign. 
He ran it on his terms. Most of the key figures involved, Boris Johnson and Michael Gove included, followed instructions. Dom's value to them is he can deliver. He can work the (black) magic.
Remember how he seemed to be dangling on a thread after the Castle Barnard trip to check the eyesight row earlier this year? And the unprecedented situation where the Prime Minister handed over the back garden of 10 Downing Street to allow his adviser hold a news conference?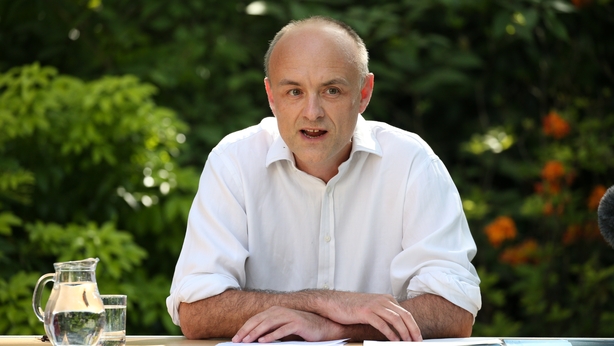 Some of the most revealing information provided by Dom at that time was his resolve to drive back to Downing Street because he knew he was needed. Dom wasn't just useful, he was vital as Boris Johnson's government struggled to come to terms with the Covid-19 challenge. 
The reason why Boris held onto him and refused all pressures to sack him is because he realises Dom in essential to his enterprise.
Maverick qualities make Dom an extra special figure. He won't be rattled by criticism from the likes of Michael Howard, John Major, Theresa May or Tony Blair. If he allows himself amusement time, he might be chuffed by the notion of doing a number on the old guard.
He has a vision - it is very different to the values of blue-blood Tories and the system they've been connected to for decades.
Methodically, on Dom's watch, a whole layer of mandarins is being removed from the British system. The resignation of a government lawyer over Boris Johnson's latest Brexit behaviour wouldn't trouble Dom. 
Like minds from his breed of mavericks are being planted in different parts of the UK's administrative structures. Some of them surface in off-the-record briefings to journalists. Service under Dom in the Vote Leave campaign is a useful line on Downing Street job applications these days.
Dom is intent on energising a flagging GB. His interest in left-behind sections of society is entirely genuine.  He wants to restore hope and prosperity in areas north of London that were neglected by successive Tory and Labour administrations. 
He sees a logic in the state investing huge amounts in new, modern industries, right up to and including taking a share in such enterprises. It is the exact opposite of Thatcherism and much of what followed her.
It also runs contrary to the elements of the EU State Aid regulations. And that's a problem for Dom. Much more so that whether Amazon parcels and Sainsbury's food trucks can arrive in Northern Ireland without fuss.
For Boris, Gove and their colleagues, Dom is like the nerdy kid upstairs in his room. He is a wizard on the computer, he has skills they don't have and he gets fantastic results. Never mind prospering, to just survive they follow the plan. 
With the assurance of a salesman of Quantitive Easing or double glazing, Brandon Lewis last week sailed into the House of Commons and read from a script, confirming the UK's bill to amend its Brexit deal with the EU will "break international law" in a specific and limited way.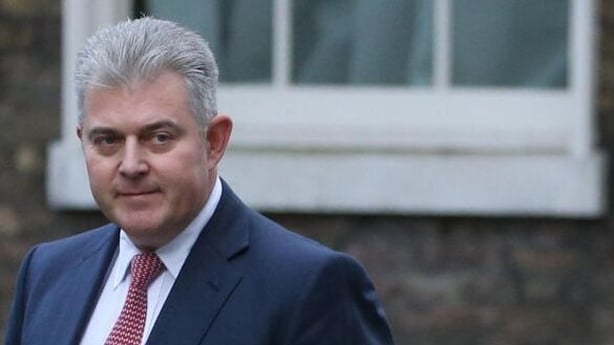 In that 30-second interlude, it became clear why Julian Smith was sacked as Secretary of State for Northern Ireland and Brandon Lewis given his job. 
As Brandon was outlining the law-breaking scenario, his prime minister was discussing details of his "moonshot plans" for coronavirus testing. The ambition is to be providing 10 million tests per day by early next year.  
The proposal was getting its first airing as the UK struggled to provide a tiny fraction of such a service and worried citizens, living in the south of England, were being offered a test in Inverness. Leaked documents suggested the project could cost up to £100bn, equal to the UK's entire education budget.
(What is so far missing from the Johnson Moonshot plan is to send British astronauts to the sun. Possible difficulties could be overcome by sending them up at night.)
U-turns are taken when required
We are living in a world where truth has little value and distraction tactics are a useful political ploy to overcome pressing challenges. The Russians poison enemies and deny it. The Chinese go silent about their wet markets. The Saudis dismember dissident journalists in an embassy in another country. In the land of the free, a US president revs up his support base about the dangers of very basic public health care and 'socialism'.
Within such a world it's difficult to see how Boris Johnson might do a U-turn on his plans to renege on the Withdrawal Agreement, Northern Ireland protocol included, that he made with the EU last year. 
That may be misunderstanding the individual and his history. Boris makes a good fist at downplaying his cleverness. But one doesn't get to be British prime minister by accident.
When he sees the gap, when there is in opportunity, when he is danger, he acts. He does what is necessary. 
Remember what happened in September 2019. From no less a setting than the Conservative Party conference in Manchester, a team was quietly dispatched across the borderless Irish Sea to discreetly do the bidding for Boris.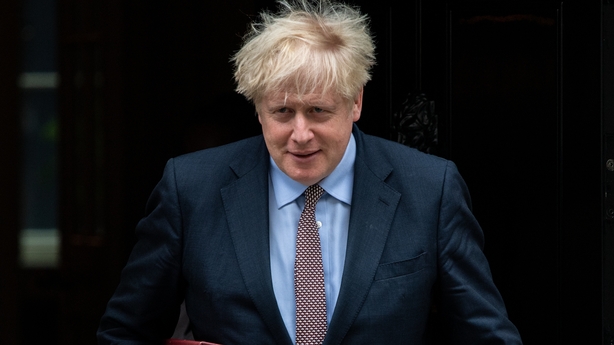 His trusted adviser, Ed Lister, chief of staff from his Mayor of London days, was across the brief. So was another team Johnson member, John Bew, son of Co Cork born Lord Paul Bew. 
On the Dublin side, Brian Murphy, the chief of staff of the then Taoiseach, Leo Varadkar, was a key link. Ireland's most senior civil servant, Martin Fraser and his colleague, John Callinan, had a sense of what was going on.  
That discreet Irish visit was the beginning of the shift that led to Boris Johnson meeting Leo Varadkar in Liverpool the following month and then quickly striking a deal with Brussels. When he formally signed the Agreement in January 2020, he described it as "a fantastic moment". That's the same deal he now wants to renegotiate.
Micheál and Boris
The British behaviour has created the biggest rift in Anglo-Irish relations for many years. Those caught up in it on the Dublin side may draw some comfort from the knowledge that if self-interest requires a U-turn, Boris has the capacity to do it in a heartbeat. 
He did it last September, when Leo Varadkar became a more useful ally than the DUP's Westminster contingent. He is well capable of doing it again.
For two men at loggerheads, the British prime minister and the Taoiseach have a lot in common. Micheál Martin had a poor election, he then brought his same backroom team into Government and he is struggling in very difficult times.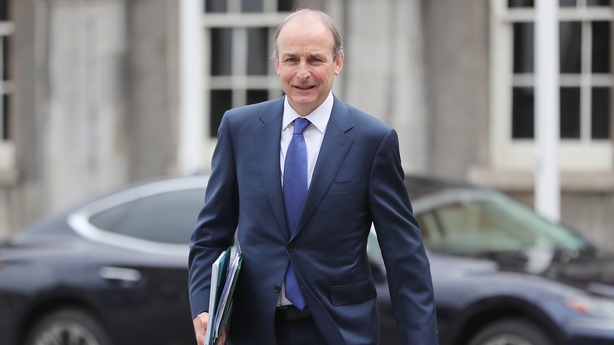 The sheen is fading from Boris Johnson after his general election landslide. Both men could yet be party undertakers or alternatively heroes.
Micheál Martin has limited time. Brexit and the handling of the pandemic are happening on his watch and will define how he is remembered. Opinion polls suggested his party's standing has tanked but may not accurately reflect how he is perceived. He is respected. 
He is not without some cards. He may not be Tánaiste when Leo Varadkar replaces him as Taoiseach at the end of 2022, but he is likely to be a senior minister after the changeover. And any messing or showboating in the current arrangements might be remembered and returned with interest then. 
Boris Johnson may have longer time than the Taoiseach in the top job. But he has issues that may not overly concern Dominic Cummings but could affect his place in history. 
If current patterns continue the Scots may well insist on an independence referendum. If the international law- breaking mindset continues and the Scots opt to take their leave, some middle ground unionists as well as a vast majority of nationalists in Northern Ireland may wish to consider their options.
As Dominic Cummings well knows, chaos can sometimes bring benefits. But the danger of throwing a jigsaw in the air is one or two of the pieces could go missing.