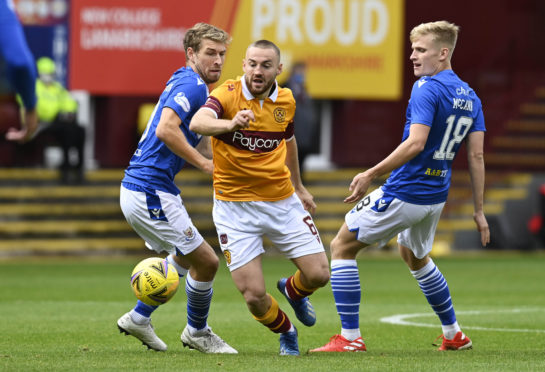 ANALYSIS: Slow starts an easier problem to solve for St Johnstone than scoring goals
Flip a coin to decide which of two recurring themes has been the more problematic for St Johnstone so far this season.
by Eric Nicolson

Heads it's slow starts and conceding the first goal; tails it's toiling to convert dominance of the ball into the thing that matters most in football – putting it into the back of the net.

After Saturday, that's six games out of seven Saints have fallen behind in.

And you're getting close to the same total of fixtures in which the control they enjoyed and/or the chances they created was ultimately under-represented on the final scoreline.

It's a damaging combination.

In some matches the problems have been inter-linked, chiefly Hibs and Aberdeen. Failings in front of goal when they were on top invited a late twist on both those occasions.

But at Motherwell a sluggish start and ropey finishing were stand-alone issues.

The two-week break is mitigation for the first of them but if Allan Campbell could be switched-on to score a fine opening goal less than four minutes into the game, that waters down the excuse for everybody else.

There were several Perth men who took a while to get going.

Ali McCann and David Wotherspoon had equal cause to be disappointed in the way in which Campbell got away from them for his goal.

They should have had him boxed in, with a pass backwards or sideways pass his only option.

Wotherspoon's body position wasn't right and McCann's challenge too weak. It was a splendid run and shot from a Scotland under-21 international making goals from distance his trademark, mind you.

You were also seeing Danny McNamara, Jason Kerr and Jamie McCart uncharacteristically not taking enough care with their passes and a poor five minutes became a poor 15.

As Craig Conway confirmed, the Saints players knew the significance of putting their stamp on the contest early given their opponents' lowly league status and fragile confidence.

If ever there was a match with fast start as a priority, it was this one.

"The game plan was to not give anything away cheaply but we do that after four minutes," said the experienced forward. "That was frustrating.

"Then we found it hard to get going.

"We never really got going until the second half.

"There were a few of chances we should have done better with but as the manager said to us, we probably got what we deserved. We didn't stick to the game plan and didn't get started.

"We knew that if they got the goal they would be happy to give us possession."

The words of Motherwell manager Stephen Robinson could be taken as both a nod to the reputation Saints are building as a team to be feared when it comes to dictating the overall tempo and flow of a match but also as a nod to the importance of taking the lead against them.

"We let St Johnstone have the ball in areas which wouldn't hurt us and told the defenders to defend for their lives when they had to," said Robinson.
"It's the least possession we've had – 40%. We even had more at Celtic. But the game plan was to hit on the break. I don't think Trevor (Carson) had a save to make if I remember rightly."

You can see why Robinson would like to portray this as a tactical masterclass – score early at a time when the opposition is at its most susceptible, willingly drop deeper to frustrate them and then soak up the inevitable pressure with your well-drilled defensive unit holding firm.

He's right that Carson wasn't kept busy but this was only as a consequence of Perth failings rather than an impregnable, thou shalt not pass Motherwell backline.

There were more proper Saints chances in this game than in any other this season apart from the St Mirren one and the blame for it being a goalless afternoon was spread across the team.

Michael O'Halloran should have put Callum Hendry in for an open goal tap-in when Ricky Lamie was short with a back-pass but he kept his head down and went for goal instead.

Hendry then missed the target – by some distance – with a free header 10 yards from goal after McNamara picked him out between the two Motherwell centre-backs.

Jason Kerr got a bit closer with a back post effort from a second half corner. David Wotherspoon didn't force Carson into saving his header from open play when he was in even more space than Hendry had been earlier and Stevie May scuffed a shot past the far post when he was one v one after a shocking Lamie fresh-air attempted clearance.

The story of this fixture was Motherwell getting very lucky and Saints finishing very poorly.

"We never worked the keeper enough and we made it easy for him," Conway admitted. "Even when I had a shot at the end.

"After they scored I don't think Elliott (Parish) had another save to make.

"Especially in the second half we controlled the game when we got on the ball but we should have capitalised more on that.

"We are creating some chances – it's just that final thing.

"It was the same against St Mirren. We had a lot of chances before Mayso came on and scored a well-deserved goal.

"But we are not taking them and that is something we need to work on."

May has that valuable winner of a fortnight ago under his belt and is yet to start a game. O'Halloran has also clinched three points with his injury-time strike at Kilmarnock and has, on the whole, looked close to becoming the player of old. Chris Kane has barely been used and is some way off match sharpness after his pre-season was written off with a calf injury.

Hendry is the only striker who has started all seven of Saints' fixtures and, without a goal to his name, is the one on whom the spotlight shines brightest.

Conway has already taken time to reassure last season's top scorer at McDiarmid Park that his troubles in the box (the chalking off of the Hibs header feels more cruel and more significant with every game he doesn't get off the mark) will be a passing phase. And you would imagine there will be another pep talk from the veteran winger over the course of this week.

"I have seen it a million times when strikers go through a barren spell," said Conway.

"I've said it to him a couple of times – he just has to keep working hard and hope one goes in off his backside. That's how it happens.

"The main thing is to keep doing the right things – keep taking the ball in for us and keep possession.

"His link up play has always been good but I'm sure the goal will come.

"He is working hard and looking good in training – staying behind and working on his shooting, that sort of thing.

"It is just one of these things that happen in football. I'm more than confident the goals will come for him."

The later than usual closing of the transfer window should work in manager Callum Davidson's favour.

There is still a chance, as Conway suggests, that Hendry will get his scruffy goal and, strengthened by the character-testing couple of months endured, he'll be an even better centre-forward than the impact player who was heading for double figures under Tommy Wright before the premature curtailment of last season.

The October cut-off for signings will also hopefully give May and Kane a chance to stake their claim to be the clinical number nine Saints are crying out for.

And, if none of the above transpire, Davidson has the time to bring another forward in.

Crucially, he has already provided compelling evidence  for his bosses in a short period that he can spot a player (McNamara), shape a team in his image and make it an entertaining one to watch.

As his opposite number articulated at the weekend with his post-match comments and the manner in which he set his team up, Davidson and his Saints players have earned the respect of the league.

Slow starts won't stop their season from flourishing – that will be sorted when the Premiership finds its rhythm. Goal-scoring issues are a far greater potential threat to this St Johnstone squad soaring.