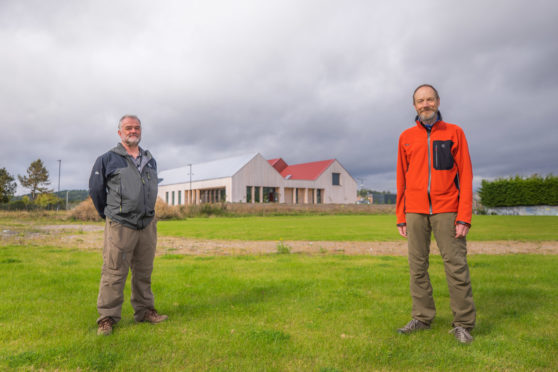 Hopes Tayport campsite will help tackle problem of wild camping
It is hoped a new campsite in Tayport will help ease concerns about a rise in wild camping.
by Aileen Robertson

Tayport Community Trust has secured funding for the £479,056 project, next to its Larick Centre in Shanwell Road, and contractors are due to arrive on site next month.

With 32 camping plots, shower and toilet facilities, and a laundry room, the site will provide a holiday location just a couple of miles from Tentsmuir National Nature Reserve.

Trustee Richard Tough, who is leading the project, said: "When we put together our business plan it was very obvious that there was a need for a campsite in this area.

"There has been plenty of publicity about wild camping, and even before Covid there were a lot of people camping in laybys and at the West Sands when they weren't supposed to be there."

It is hoped the campsite will encourage people to camp responsibly in a location with facilities, reducing nuisance and littering.

"We have had a lot of support from the likes of Fife Council, Fife Coast and Countryside Trust and Forestry and Land Scotland," added Mr Tough.

A contractor is scheduled to arrive on site on October 12, when work to set up infrastructure such as electricity supply will get under way.

Once that is complete, another contractor will build the utility buildings, with the project set to be complete at the end of February, ahead of the site opening around Easter.

By offering a holiday destination with access to Tentsmuir, Morton Lochs, Fife Coastal Path and Dundee, the trust hopes it will support "sustainable wildlife tourism" while boosting the local economy.

The bulk of the funding – £274,070 – has come from the European Leader Programme and the project must completed by the end of this financial year, when the scheme will cease.

A grant of £120,000 was received from Resilient Scotland and an anonymous donor also boosted the project.

Mr Tough added: "It's a very exciting time for us and I would like to thank our incredible fundraising team who have, yet again, worked so hard to secure the funding, especially in such challenging times. I would also like to thank Fife Leader staff for their help and support through the application process."

Tayport Community Trust opened the newly built Larick Centre in July. The opening was later than planned because of the Covid-19 pandemic.

The trust is currently looking for volunteers to help develop its campsite and community projects, and would like to hear from people with skills and experience in the areas of marketing and media, information technology, accountancy, event organisation, community education, youth work, tourism and law.