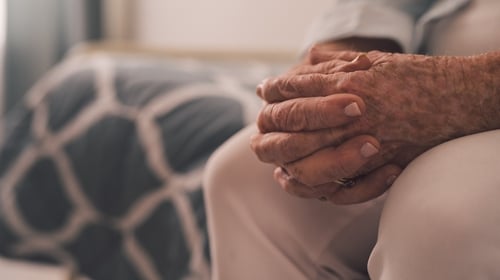 Restrictions in nursing homes an 'enormous sacrifice'
The Executive Director of Sage Advocacy says nursing home residents and their families are being asked to make "an enormous sacrifice" as new visitor restrictions are put in place in Dublin nursing homes.
Sarah Lennon said the restrictions must be looked at in the context of what other people are being asked to do.
For the next three weeks only one person, instead of four people, will be allowed to visit a family member in a Dublin nursing home.
Dublin has experienced a sharp rise in the number of coronavirus infections - over half of last night's 255 reported cases were in the capital.
Ireland's 14-day incidence of Covid-19 per 100,000 has risen slightly and now stands at 41.0.
Speaking on RTÉ's Morning Ireland, Ms Lennon said she understands that the decisions are going to be driven by the assessment of risk to the safety of residents, but it is nonetheless a serious and significant restriction.
She said the overall mental and physical health and well being of residents must be considered. 
There have been, she said, inconsistencies in how nursing homes have facilitated visits up until now and it would be helpful if the Minister for Health could provide a roadmap for the implementation of the nursing home expert report.
She said this should include a review of staffing levels and control and appropriate independent advocacy available to residents to make sure their voices are heard.
She added that if we are likely to continue living with this virus for some time, then other measures must be taken in tandem with visitor restrictions so that we do not end up with a cycle of significant, restricted visiting period.
She said the spread of Covid-19 is currently being contained for the most part in nursing homes, but warned that the nature of the virus means the information is "only as up to date as the next positive test".
Meanwhile, a Consultant Physician in Geriatric and Stroke Medicine at Tallaght University Hospital says the risk to patients in nursing homes must be balanced with quality of life and it is the importance that people in nursing homes get appropriate visitations.
Professor Rónán Collins said new measures to restrict visitors to nursing homes are "not inappropriate".
Speaking on the same programme, he said there have been one or two small outbreaks in nursing homes which is to be expected as circulation of the virus in the community rises.
People within nursing homes are being asked to make a sacrifice, he said, and it must be appropriate to the sacrifice that others are being asked to make.
Prof Collins said this is an important time to start implementing the recommendations made by the expert panel and examining how we mitigate the effects of the virus on the nursing home population through technology and better outdoor visits.
Unfortunately, he said, he did not believe that this would be the last pandemic of our lifetime.
Intensive Care Specialist at University Hospital Limerick and former President of the Intensive Care Society of Ireland Dr Catherine Motherway said she is concerned about the winter to come and any expansion to ICU beds would be "welcome and necessary".
Currently, she said, there are ten people with Covid-19 in ICUs around the country and there is some capacity in the system.
However, she warned that intensive care units in Ireland are always under pressure and units were running at 88% occupancy before the pandemic and this pressure always increases in winter. 
Dr Motherway said that currently they are not seeing more admissions to ICU in University Hospital Limerick but the fear is that the virus will spread to more vulnerable populations. 
She added that these populations have information they did not have in February, when the first cases of Covid-19 were detected in Ireland, and now know how to protect themselves.
She urged people to practice physical distancing, mask wearing and hand hygiene. 
Dr Motherway said the treatment in ICU for Covid-19 patients has changed somewhat now that doctors have more knowledge.
Less invasive ventilation is being used, where possible, and patients are being managed lying on their tummies while the potential use of steroids will also hopefully improve ICU outcomes.
She added that ICU outcomes in general have been quite good, with a 79% survival rate - which compares quite well internationally.
Dr Motherway said the HSE is committed to improving intensive care and they are now relying on the Government to fund this.
She said she would have concerns about "amplifying events" and people gathering in uncontrolled gatherings.
It does appear that the pubs and restaurants that have opened so far have not been associated with a lot of outbreaks, she said, and it is likely that pubs will be allowed open in a controlled manner.