3,200 Families Evicted From Their Homes in Mombasa [VIDEO]
by Eddy Mwanza

At least 3,200 families have been forced out of a highly contested parcel of land in Nguu Tatu, Kisauni Constituency, Mombasa.

Footage of the evicted families surfaced on Monday, September 14. The visibly distraught residents camped outside their MP's office and vowed to stay put until their issue was addressed.

Speaking to the media, one of the squatters revealed that they had been living on a section of the 386-acre parcel of land for generations.

"This land has been hotly contested and we had to go to court. However, what shocked us is that despite being in possession of a court order restraining the land owner from evicting them, the contractor still moved in and evicted us.

"We are now camped here outside our MP's office who happens to be a member of the Parliamentary Select Committee on Land and we want him to air our grievances. According the Section 135 of the Constitution, every Kenyan has a right to shelter," he stated.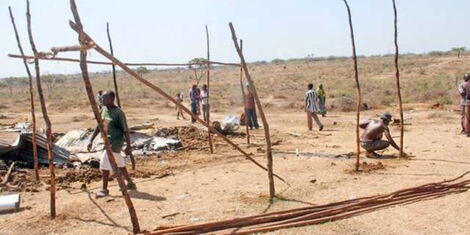 Squatters put up temporary structures on Hussein Dairy land at Nguu Tatu in Kisauni on March 18, 2016.
File
He further swore that they would not leave the MP's premises, after claiming that they had sought their legislator at least 4 times with no success.
"We will not leave this place until our MP shows up, even if it takes weeks as we have nowhere else to go," one of the squatters asserted.
The families pitched tent outside the Kisauni Constituency County offices with their belongings, including cooking pots and stoves.
In the footage, women can be seen preparing meals with babies strapped on their backs as they wait for a way forward.
A visibly incensed woman revealed that some private developers were behind the evictions and vowed that the families would not move from the land.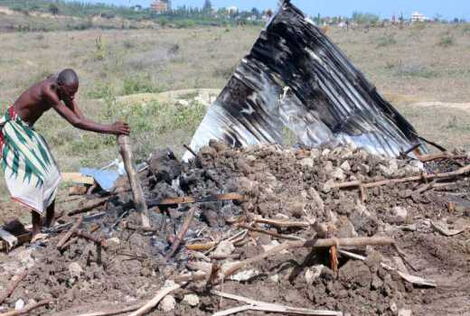 A resident goes through remnants of his house at Nguu Tatu village in Kisauni, after police demolished and burnt it during eviction exercise in November 2015.
File
"We have been living here for generations and raised our children into adulthood. We know the private developers behind this inhumane act and we also know that they can use back channels in court, but let them know that we are not going to move," she stated.
Bandari Sacco has been fighting to reclaim the piece of land since 2015. The Sacco, comprised of over 16,000 members, said it incurred a Ksh700 million loss due to statutory payments on the land they bought for Ksh385 million in 2011. 
In July 2018, Mombasa Governor Hassan Joho was forced to step in and issue a directive stopping the eviction of squatters from the same parcel of land  which is said to be owned by port workers. 
His actions proved controversial at the time as it came just days after a High Court ruling that declared the land belonged to Bandari Sacco hence the squatters ought to have been evicted.
However, according to statements from the affected families, the Shanzu Law Courts had issued an order for them to be alloted a section of the land, which is where they had settled prior to the latest evictions.
Watch the evicted families sharing their stories below: