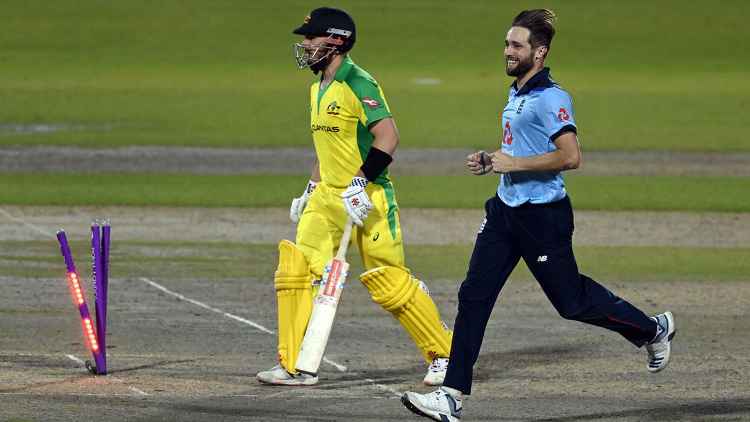 England's bowling plan was 'attack, attack, attack' - Chris Woakes after thrilling win
by Andrew Miller, UK editor, ESPNcricinfo

Chris Woakes says that England's only option was "attack, attack, attack" as they turned the second ODI on its head in a thrilling fightback late in Australia's innings.

Woakes claimed figures of 3 for 32, including both of Australia's well-set batsmen, Marnus Labuschagne and Aaron Finch, as well as the dangerous Glenn Maxwell for 1, as Australia slumped from a seemingly impregnable 144 for 2 to 207 all out, and defeat by 24 runs.

He was one of three England seamers to pick up three in the innings, alongside Jofra Archer - who claimed the Player of the Match award after ripping out two early wickets in a fierce new-ball spell, and Sam Curran, who rose to the occasion after his senior team-mates had bowled out with 3 for 35 in nine.

And speaking to Sky Sports after the win, which has levelled the series at 1-1 with Wednesday's decider to come, Woakes was delighted that England both came up with a plan and then stuck to it, to script an improbable turnaround.

"If you held your length well, it was always going to be difficult for the batsman to score freely," he said. "We certainly found that with the bat, and then pressure builds and that's when you pick up wickets.

"The chances come when you're building dots regularly, so you're constantly trying to bash a good length, and make sure the batsman is going to play your best ball as many times as possible."

England had looked dead and buried once already in the contest, after slumping to 149 for 8 in their own innings, before the tail - led by Tom Curran and Adil Rashid - rallied to post a competitive 231 for 9.

And yet, on a used wicket that had already proven tricky for England's strokemakers, England still believed even when Australia seemed to be coasting to their target on 121 for 2 after 25 overs. It was at that point that Eoin Morgan turned back to his new-ball pairing, Woakes and Archer, with devastating effect.

ALSO READ: England level series after sparking dramatic Australia collapse

Neither man struck immediately, but after drying up the runs for five overs in a row, Woakes then pinned Labuschagne lbw for 48. And with Morgan now intent on bowling out his strike pairing, Archer was primed to barrel through the defences of Mitchell Marsh, bowling him for 1 in his next over to send panic coursing through Australia's ranks.

"At that point, we were just thinking 'attack, attack, attack'," said Woakes, who bowled Finch for 73 four balls later and Maxwell with first ball of his subsequent over. "Try and get as many wickets as possible. We used cross-seam quite a bit to get that ball to go reverse and thankfully we got a bit of that.

"It was moving off the straight, and we always felt that if we could pick up a cluster of wickets in the middle, it was going to be difficult for the new guys coming in. Eoin bowled me and Jof out, and we sensed that was the moment we had to make the most of the ball going sideways."

After a difficult time in the Test series against West Indies and Pakistan, when Archer's game plan never quite seemed fully attuned to the format, there was no doubting his readiness for the challenge of transforming this particular contest.

"We were quite versatile," Archer said during the post-match presentation. "We went seam-up for the first two or three overs, and then Morgs said 'give it a go and see what happens' and it worked.

"This is a second-day wicket as well, so you don't have to do too much," he added. "If you keep banging it in, it's hard enough to bat as it is, so you don't have to get too funky with the variations."

Even so, England's work was not done by the time Woakes and Archer had finished their spells. Australia were rocking on 155 for 6 after 36 overs, but that left the back-end of the innings in the hands of Sam Curran, a relative novice when it comes to the dark arts of death bowling.

"It was unbelievable really," Woakes said. "Him going into the last 12 overs with six to bowl, that's a tough gig. So credit to him, he held his nerve.

"He kept saying ' I'm worried about bowling length' and I said, 'well, mate, it's what's working on this surface, just keep sticking to it'.

"If you stick to the process, Morgs is always happy for you to do that, but it showed great character for him to pick up three great wickets as well."

Finch, Australia's captain, also paid credit to England's resolve in overturning the odds.

"We knew it was always going to be tough for a new batter to start on a wicket like that," he said. "England squeezed, they bowled really straight, a really good length, it was hard to take them on down the ground and it was hard to hit boundaries in that middle period. They bowled well but, yeah, we're still very disappointed."