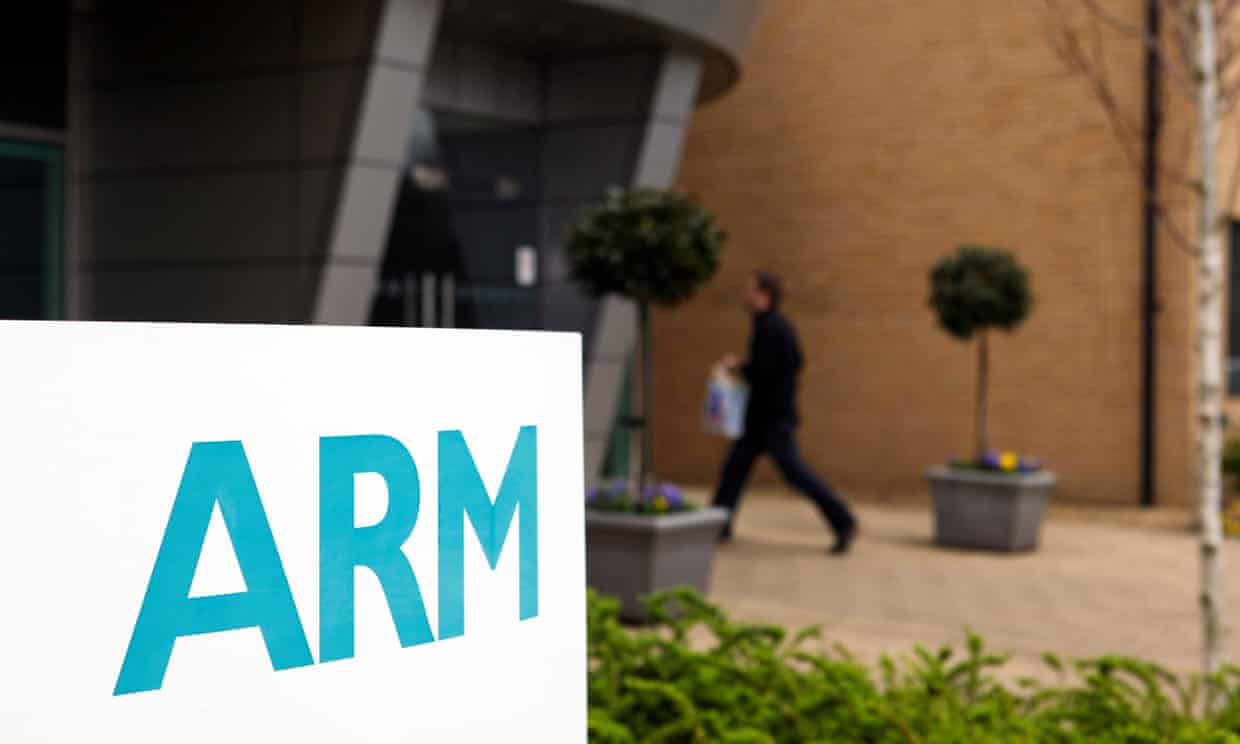 Arm
UK tech giant Arm Holdings to be sold to US company Nvidia in $40bn deal
Chip designer's co-founder says deal is an 'absolute disaster' that will lead to UK job losses
by Martin Farrer, Julia Kollewe, Rob Davies

One of Britain's most successful tech companies, Arm Holdings, is being sold by its Japanese owners for $40bn (£31bn) in a deal that could reshape the semiconductor landscape.

Nvidia, a US company, will pay SoftBank $21.5bn in shares and $12bn in cash for the chip designer, although the deal is still subject to regulatory approval in the UK and could face opposition from its new owners' rivals and British politicians concerned about foreign takeovers.

It is expected that Nvidia will face tough conditions on protecting jobs and the status of Arm's headquarters in Cambridge as part of the deal.

Arm co-founder Hermann Hauser described the takeover as an "absolute disaster" and said it would destroy the company's business model and lead to job losses at its Cambridge headquarters and elsewhere in the UK.

Speaking on BBC Radio 4 on Monday morning, he said any promises made on jobs were "meaningless unless they are legally enforceable", pointing to the takeover of Cadbury by US company Kraft in 2010.

Mike Clancy, general secretary of science and technology union Prospect, called on the government to intervene in a deal he described as a "worrying development".

"If the UK tech sector is to flourish and create the jobs of the future here in Britain, then we need our crown jewels to be owned and managed in a sustainable way that prioritises investment in the workforce and in research and development.

"It is not too late for the government to take a more hands-on approach to this deal and impose some binding conditions to secure a stable future for Arm that benefits the whole country."

SoftBank paid $32bn for the company four years ago in a deal that pledged to keep the headquarters in Cambridge. It also netted a fortune for Arm's executives, and this time around Arm employees will share $1.5bn in Nvidia shares.

Founded in Cambridge in 1990, Arm specialises in microprocessors, and dominates the global smartphone market. But its chips are also found in countless sensors, smart devices and cloud services.

Nvidia, based in California, is best known for graphics cards that are favoured in the video game industry. It has seen sales skyrocket during the coronavirus crisis, with gaming a popular pastime in lockdown.

Its products are also increasingly used for artificial intelligence and in data centres.

Jensen Huang, Nvidia's chief executive, said the deal would create "the premier computing company for the age of artificial intelligence", and promised to keep the Arm headquarters in Cambridge.

"AI is the most powerful technology force of our time and has launched a new wave of computing," he said in a statement. "In the years ahead, trillions of computers running AI will create a new internet-of-things that is thousands of times larger than today's internet-of-people. Our combination will create a company fabulously positioned for the age of AI.

"Arm will remain headquartered in Cambridge. We will expand on this great site and build a world-class AI research facility, supporting developments in healthcare, life sciences, robotics, self-driving cars and other fields. And, to attract researchers and scientists from the UK and around the world to conduct groundbreaking work, Nvidia will build a state-of-the-art AI supercomputer, powered by Arm CPUs. Arm Cambridge will be a world-class technology centre."

However, his move for Arm is unlikely to go unchallenged in the industry.

Arm licenses its technology to any company that wants to buy it and its customers include Apple, Samsung and Qualcomm, which in turn use it in their devices.

The gives Nvidia control of technology from Arm that could be used to make its own central processor chips, doubling down on Nvidia's strategy of buying up technologies in parts of the booming data centre business where it does not currently play.

Nvidia's deal would also put Arm under the control of a US-based combatant amid a trade cold war between the United States and China, which is rushing to develop a domestic semiconductor industry while US officials seek to stem its rise.

Geoff Blaber, vice president of research for the Americas with CCS Insights, said the deal "will rightly face huge opposition" from Arm's customers.

"An acquisition by Nvidia would be detrimental to Arm and its ecosystem," Blaber said. "Independence is critical to the ongoing success of Arm and once that is compromised, its value will start to erode."

Nvidia began as a graphics chip designer and has expanded into products for areas including artificial intelligence and data centres.

The Arm acquisition will put Nvidia into even more intense competition with rivals in the data centre chip market such as Intel and Advanced Micro Devices because Arm has been developing technology to compete with their chips.

Softbank's boss, Masayoshi Son, had lionised the potential of Arm but was slashing his stakes in major assets to raise cash.

The deal will see SoftBank and the $100bn Vision Fund, which has a 25% stake in Arm, take a stake in Nvidia of between 6.7% and 8.1%.

SoftBank could also be paid an additional $5bn in cash or shares, depending on the chip designer's business performance.