'Sonia has administered a bitter pill to Rahul'
by SYED FIRDAUS ASHRAF

'Ghulam Nabi Azad and Kapil Sibal are the two people who have been marked and punished'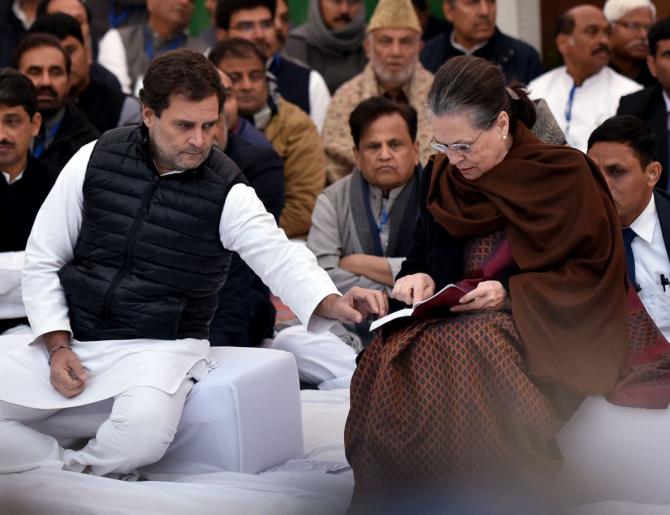 In a major organisational reshuffle, interim Congress President Sonia Gandhi dropped Ghulam Nabi Azad, Motilal Vora, Ambika Soni, Mallikarjun Kharge as All India Congress Committee general secretaries, and reconstituted the Congress Working Committee.
The reshuffle came after a 'group of 23' leaders wrote a letter to Gandhi seeking internal democracy in the Congress party.
"Sonia has very deftly accommodated those who have potential and are in Team Rahul like Manick Tagore, Randeep Singh Surjewala and K C Venugopal who are perceived to be Rahul's eyes and ears," veteran Congress watcher Rasheed Kidwai -- and the author of two books on the Congress party, 24 Akbar Road and Sonia -- A Biography -- tells Syed Firdaus Ashraf/Rediff.com. The first of a fascinating two-part interview:
How do you see the recent reshuffle in the Congress party?
This is a Sonia Gandhi-centric exercise.
She has taken a holistic view drawing up her rich experience going back to March 1998.
She knows the data profile of each individual (of Congress party leaders).
This is an exhaustive exercise.
What she has done, she has very deftly accommodated who have potential and are in Team Rahul like Manick Tagore, Randeep Singh Surjewala and K C Venugopal who are perceived to be Rahul's eyes and ears.
At the same time, she has gone back to veterans like Oomen Chandy, Harish Rawat, Mukul Wasnik, Digvijay Singh.
What is the message to the group of 23 who wrote that letter against the party leadership last month?
That group has dismantled.
They wrote in the letter that all is not well in the Congress: Leadership style has to be changed and inner-party democracy has to be restored.
The third point of inner-party democracy had two components: One was the election of the Congress president, and other, election of other bodies, particularly the Congress Working Committee.
Now in a single stroke Sonia Gandhi has dismantled and broken the ranks of dissenters by getting five to seven out of the 23 (dissenters) in various panels.
If democracy was vivid within the Congress then these people should have resisted the temptation to get into the Congress Working Committee, general secretary's post and AICC in-charge of states.
They should have said they wanted restoration of inner-party democracy, but they did not do.
In some cases, like Anand Sharma, the status quo has been maintained, he is the deputy leader of the party in the Rajya Sabha and a member of the CWC.
Some people are nowhere or are on the losing side, like Ghulam Nabi Azad.
Why are the Gandhis harsh on Ghulam Nabi Azad in particular?
I think the Gandhis have inside information and assessment that there were two prime movers of the dissenters.
One was Ghulam Nabi Azad and the other, Kapil Sibal.
Not so much Anand Sharma or Shashi Tharoor and others.
Ghulam Nabi Azad and Kapil Sibal are the two people who have been marked and punished.
You wrote that this is a new Congress dawn, but don't you feel this reshuffle is just a mixture of old and new leaders loyal to Rahul Gandhi?
In a political party you can only look at the pool of talent that is available.
You cannot get outsiders in the party.
In a political party, experience, loyalty, comfort level with leadership, all these things come into play and that explains why leaders like Rajiv Shukla, Pramod Tewari and Salman Khurshid have come back.
Ability to manoeuvre and ability to offer freshness is very limited.
That is why I think it's a bitter pill for Rahul Gandhi also.
He wanted a new Congress, but Sonia Gandhi has administered a bitter pill to Rahul.
She has told him that if and whenever he becomes Congress president, he will have to deal with this mix of old and young: Family retainers, cerebral politicians and political fixers -- all kinds of leaders in short.