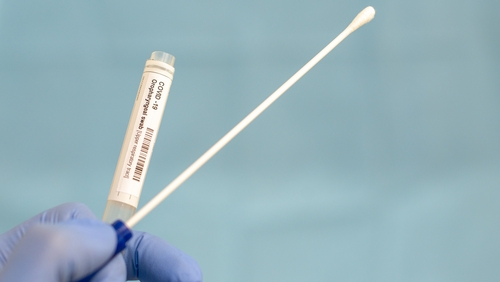 208 new cases of Covid-19, no further deaths confirmed
by Fergal Bowers, https://www.facebook.com/rtenews/

The Department of Health has said 208 more cases of the coronavirus have been diagnosed in Ireland, bringing the number of confirmed cases to 31,192.

No further deaths have been notified. There has been a total of 1,784 Covid-19 related deaths in Ireland.

Of the cases notified today, 108 are in Dublin, 18 are in Louth, 12 in Donegal, and ten in Meath.

Nine cases are in Kildare, eight in Waterford, seven in Cork, six each in Limerick and Wexford.

The remaining 24 cases are spread across Carlow, Cavan, Clare, Galway, Kilkenny, Laois, Longford, Mayo, Roscommon, Tipperary, Westmeath and Wicklow.

Of today's new cases, 98 are men and 110 are women, and 62% are in people under 45 years of age.

The department said 33% are confirmed to be associated with outbreaks or are close contacts of a confirmed case, while 18 cases have been identified as community transmission.

The period of self-isolation for Covid-19 positive cases in Ireland has today been reduced from 14 days to ten days.

Acting Chief Medical Officer  Dr Ronan Glynn said: "NPHET has decided to reduce the period of isolation from 14 to ten days for confirmed cases from the onset of symptoms, based on advice received from the Expert Advisory Group following a review of the evidence.

"In addition, it has been agreed that nasal swabs are an acceptable alternative to nasopharyngeal swab for use in children in the community. This will hopefully make testing a simpler process for children going forward.

"Covid-19 is an evolving pandemic and NPHET is committed to adapting advice and guidelines based on emerging evidence."

In Northern Ireland, the Department of Health has reported two further coronavirus deaths, bringing the official death toll to 570. 

There are 109 new cases confirmed, from tests on 3,677 individuals, taking the cumulative total to 8,423. 

There are currently 16 coronavirus patients in hospital in Northern Ireland, with two in ICU.
Read more:
Latest coronavirus stories
Govt to finalise details of medium term Covid-19 plan
Visitor restrictions in nursing homes an 'enormous sacrifice'
The new clinical guidance on the reduction of the period of isolation was issued to GPs by the Health Service Executive and the Health Protection Surveillance Centre.
Under the change, the patient must be fever-free for the last five days. For close contacts, people must still restrict their movements for 14 days.
The changes from 14 to ten days apply to positive cases in the community. It does not apply to people arriving here from non-Green List countries.
The changes follow a review of international evidence, including a study by the Health Information & Quality Authority.
Earlier, infectious diseases consultant Clíona Ní Cheallaigh described the increase in the number of Covid-19 cases in Ireland as "worrying".
Speaking on RTÉ's Today with Claire Byrne, she said: "The scene is changing in hospitals, and they are starting to see patients unwell with Covid."
Dr Ní Cheallaigh said Covid-19 is spreading more rapidly from indoor settings, and from households and urged people to "think that everyone you come into contact with has the virus, and avoid all situations where it can be passed on".
In relation to the wearing of face coverings, Dr Ní Cheallaigh said even in settings where a two-metre distance can be guaranteed, such as in an office environment, "there is no downside to wearing a mask, and it may give you extra protection".
She said people in a closed space, such as in a pub, will be at a higher risk.
"In pubs there are people in a closed space. They can't wear a mask when they are having a drink so a pub will be high risk by its very nature," Dr Ní Cheallaigh said.
She highlighted that there is international evidence from other countries in Europe to show that reopening pubs, bars, and nightclubs can lead to an increase in cases of Covid-19.
There is no zero-risk environment, Dr Ní Cheallaigh said, "unless you stay at home".
It comes as the level of hospital overcrowding has reached its highest this month, with 232 patients waiting on a bed today, according to figures from the Irish Nurses and Midwives Organisation.
These patients are in emergency departments, or on wards waiting for admission to a bed.
The hospitals with the highest level of emergency department overcrowding are University Hospital Limerick with 51 patients waiting, the Midland Regional Mullingar with 21 and Cork University Hospital with 20.
The HSE puts the national figure lower at 186.
GP welcomes nasal swab plan for children
A Kildare GP Dr Brendan O'Shea has said that he welcomes NPHET's recommendation to introduce nasal swabs to test children for Covid-19, which he said will hopefully "make testing quicker and easier".
Speaking on RTÉ's Drivetime programme, Dr O'Shea said the current nasopharyngeal swab, if done correctly, is uncomfortable and regarded as somewhat invasive.
He said: "No test is perfect. There are degrees of accuracy, degrees of acceptability, degrees of cost and degrees of reliability."
Dr O'Shea said that since April we have been "incrementally improving our approach, our knowledge is improving and the technology is improving".
"It really is a race of cost and the science against the virus.
"Anything that holds out the prospect of making it easier is to be seriously looked at and we would welcome this as a recommendation."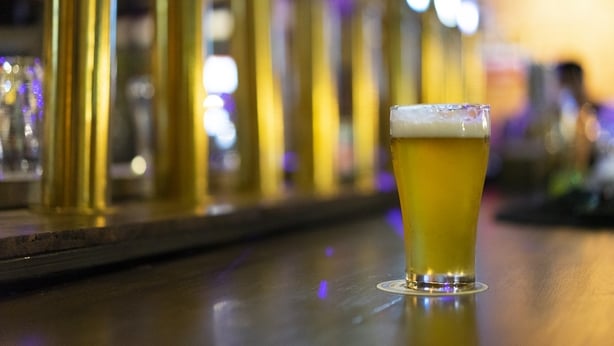 Meanwhile, CEO of the Licensed Vintners Association Donall O'Keeffe said so-called wet pubs should not be "singled out" in the hospitality sector, and if restrictions need to be applied in certain areas as Ireland deals with Covid-19, then all businesses in the sector "should be treated equally".
Also speaking on Today with Claire Byrne, Mr O'Keeffe called on the Government to "stick by its decision" to allow all pubs to reopen on 21 September.
He said he accepts that pubs may need to close if they are deemed to be sources of outbreaks in certain areas, but all businesses in the hospitality sector in that area should also be closed.
Mr O'Keeffe said: "When the risk is in the workplace in hospitality then all of the sector must be treated equally. These businesses have been closed for 189 days; it is long overdue that these pubs get opportunity to reopen.
"There have been outbreaks in other sectors, like the meat-processing industry, and those businesses were closed, but the sector remained open.
"It is imperative that if and when there are outbreaks in pubs that those are dealt with by the authorities, but the rest of the sector has to have the opportunity to keep trading.
"If wet pubs are singled out it will be grossly unfair."
Mr O'Keeffe said the pubs that have been closed "have made no contribution to the infection rate in Dublin today".
He said so far there have been a low number of cases related to the hospitality sector.
When wet pubs reopen, Mr O'Keeffe said "it will not be business as usual", and public health guidelines "will transform" how businesses operate in these settings.