Meet Brains Behind Kenya's Lamborghini-Inspired Vehicle
by Michael Musyoka

You have probably come across pictures of the prototype of the eye-catching vehicle on social media.

The vehicle made by young mechanics from Mwakitau, Taita Taveta County has shown that Kenyan youth have the ability to excel.

Driven by a hunger to invent and fight idleness due to school closure, 20-year-old Nassir Kichinda built a car from scratch with his co-creator Ferdinand Mbashu.

The form-four pupil explained to Kenyans.co.ke that he was inspired to design the vehicle from watching movies.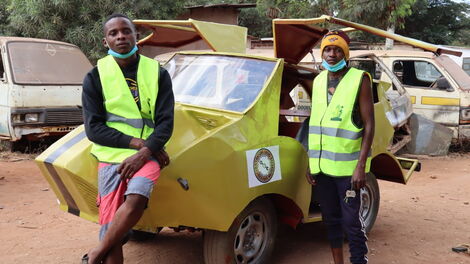 Nassir Kichinda and Ferdinand Mbashu with the car they built in Taita Taveta County.
Facebook
"I saw the movies on TV and they looked cool, so rather than making an ordinary design I went for the butterfly doors like the Lamborghinis," Kichinda stated.
Butterfly doors or scissors are automobile doors that rotate vertically at a fixed hinge at the front of the door, rather than outward as with a conventional door.
The doors which are synonymous with the Lamborghini brand of vehicles are seen as a sign of luxury and style.
Despite not having any formal training on mechanics, Kichinda sought to build the vehicle using locally available materials.
Using scrap metals such as disposed bolts from car yards, he started building the car.
"The vehicle uses the engine of a motorcycle because that is what we could afford. With the engine, it can go up to 80km/hr," he stated.
The car accommodates only two people, similar to Lamborghinis whose manufacturer rarely makes four-seaters.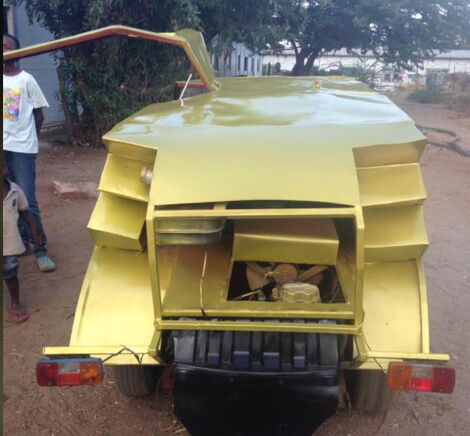 A rear view of the vehicle built by Nassir Kichinda in Taita Tavet County.
Facebook
"It only took one month and one week to make the design using the materials I could find and I am still making improvements on the interior," he disclosed.
Kichinda disclosed that the vehicle set him back Ksh250,000 to make and he was setting his sights even higher modifications.
"This is just the beginning. God willing, I will be able to build a plane, all I need is support financially and that is possible," he stated.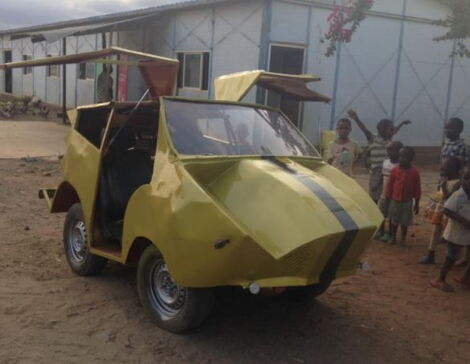 The vehicle built by Nassir Kichinda in Taita Taveta County.
Facebook